About Us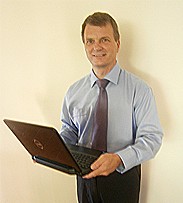 ---
Ren's IT Solutions are a Melbourne based IT solutions provider, offering cost-effective IT solutions to small to medium businesses.

More recently, we added web design and maintenance to our portfolio. We are using mainly WordPress for our designs. WordPress had a tremendous growth over the past few years and is the most popular content management system (CMS) with over 60 million installs worldwide.
We have over 10 years experience in IT and related areas.You can rest assured that your problem will be solved quickly and cost effectively.The IT landscape is changing constantly. There is also a lot of hype in the IT industry. We don't follow the latest trend just for the sake of it, but we are evaluating solutions for their effectiveness, cost and security. We believe your data is yours and we won't recommend solutions that locks your information to a vendor, in short, we don't believe in vendor lock. We are customer focused, flexible, and have an analytical approach to problem solving. Every business is different and we try to offer a solution that fits the customer's budget and needs.